Kitinden - A different mountain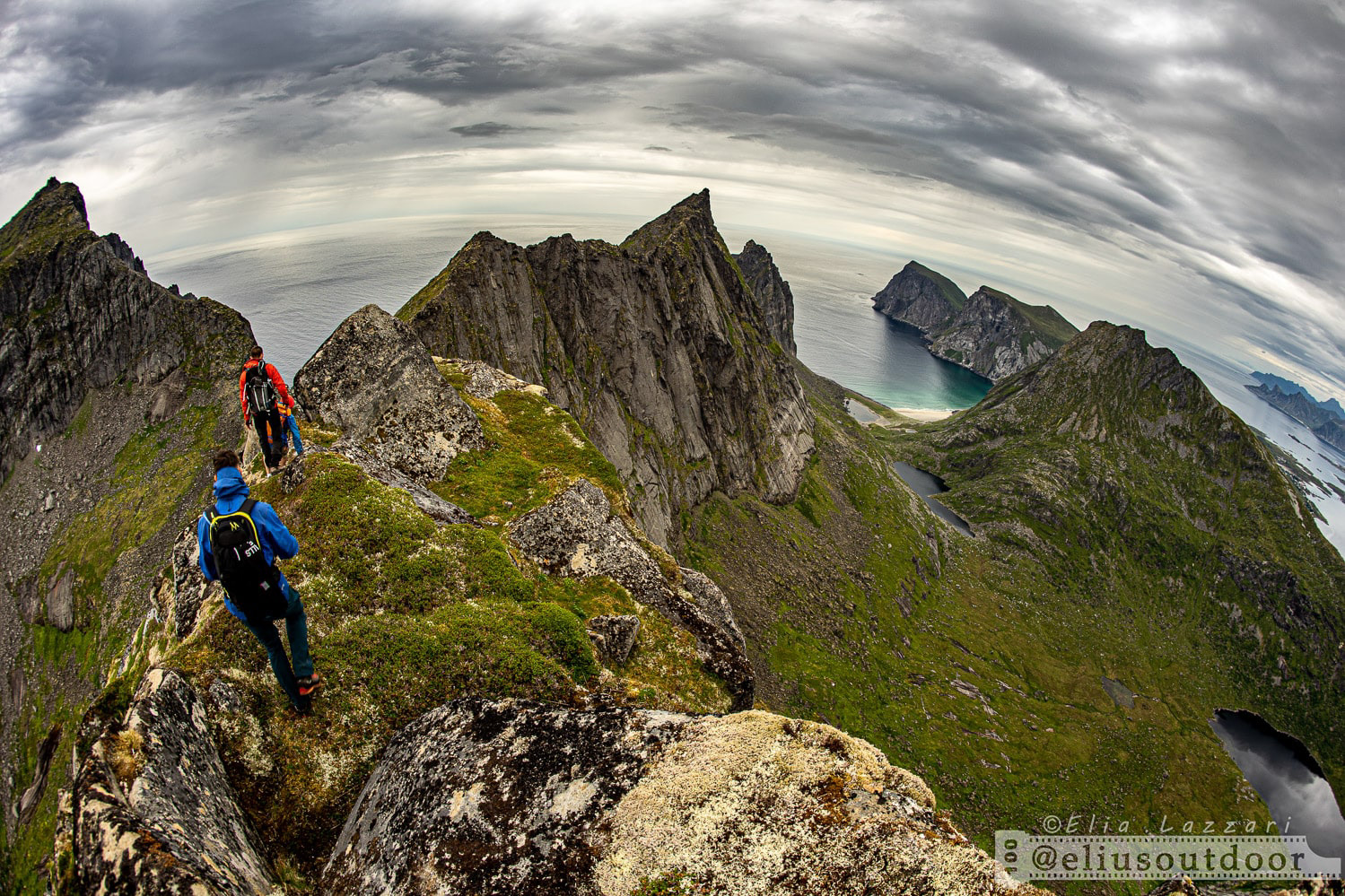 Info
⛰  Category : travel, mountains
📅 Date : 2019-08-12
🗺 Location : Kitinden, Lofoten Islands, Norway
August 2019.
My friends and I traveled to the Lofoten Islands in Northern Norway with the idea of experiencing a new kind of mountains and savoring an outdoor way of life in a place where time stops, where the watch doesn't matter that much. In this story I want to tell you about a day spent with great wild spirit, coming from nights on the rocks, to bivouac on the seashore living on fishing, to then reach spectacular peaks. These two situations that we would never have thought of playing together, perfectly sum up the spirit of summer in Lofoten. The climate was similar to our mountains, so it was not difficult to adapt. On the other hand, the midnight sun did not allow us to realize that we were keeping late hours during our excursions. A mountain that immediately transmitted its wild and vertical spirit to us was the Kitinden, a steep peak located on the island of Moskenesøya, one of the last of the archipelago, whose summit can be reached via a hike that is not trivial at all and not entirely traced (which makes it necessary to use GPS and cartography). High altitude is not a characteristic of these peaks; exposed passages, impressive vertical jumps, grassy valleys that quickly plunge into the ocean, breathtaking ridges and locations where the paths are not always present is what we were discovering. The local inhabitants told us that the Kitinden, given its wild nature, is little known and consequently not visited. As a matter of fact, in the summit book there were only two signatures before ours and this increased our enthusiasm and bond with nature during the climb.
We started from the sea, where we bivouacked. Like all mountains at the Lofoten, there are not many plateaus and almost all starting points are on narrow roads by the sea. In the morning we had a good breakfast and then "backpacks on our shoulders, up we go!". The weather was not the best, it was cloudy but the clouds were higher than the mountains. Starting on a grassy slope, it's been only few hundred meters of hiking since we reached a first green ridge from which we were able to admire a magnificent view towards the North Pole. This fact of being so close to the pole was exciting for us. From this point on, the landscape began to change sharply: Lofoten islands, that we used to look at from below, started to make sense. Sharp spiers, narrow ridges, snowfields, very steep canals — in that moment we began to experience their real essence.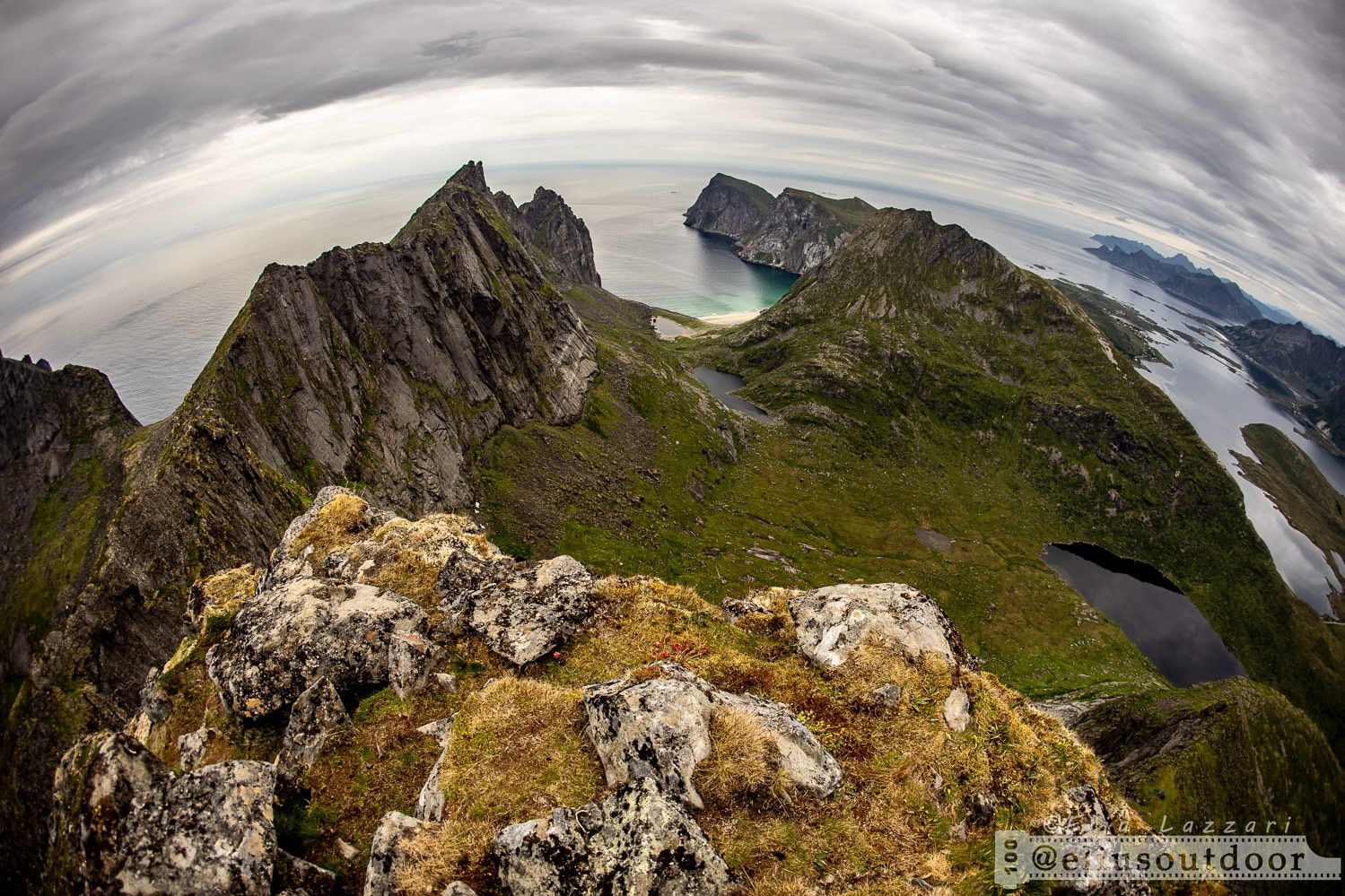 As we hiked on, the mountain gradually changed its appearance, becoming more rocky and colder. We passed into a shaded plain that suddenly made us feel like we were in winter. There was a small glacier with its drainage lake, all in the middle of an area full of large dark granite boulders. Crossed this plain, we faced a series of exposed passages, until we found a ridge that quickly brought us to the summit. On the top, there was an Inukshuk, the classic pile of rocks that marks the track. On top we were tight, standing on a small ridge with some rocks exposed as if they were pool trampolines. We were only 800 meters above the shore from which we started walking and this was astonishing. The panorama was one of those we weren't used to, it was unusual to see these huge mountains raising out of the ocean. It was as if we had taken a step back in time, when our mountains as the Alps emerged from the sea, creating small atolls, just like these islands. We lingered on the summit more than an hour, we wanted to enjoy that moment to the fullest. Being up there with a nice group of friends was certainly an added value. When the time came for us to descend, we decided to make a detour. We tried to cross a narrow ridge, one of those where you should not lose your attention, and we tried to explore a mysterious valley that led to a large fork. Our enthusiasm was as high as the amazement that we felt that day: we were really feeling alive. Back to the starting point, we were really ecstatic cause we had just lived the essence of Lofoten. That's why sooner or later we will come back, conceivably in winter because it must be even more fascinating or simply different.